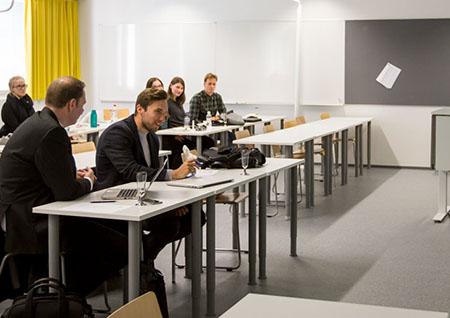 08 Mar

Kickstart your global success with the help of local students

The international business students of VAMK co-operate with local company Jukolux Oy as part of a project course. The idea of the course is to work with real life situations and with real companies. The topic of this course was to generate ideas how to improve the global export of Jukolux's luminaires.

First the students formed project teams and then continued to choose their own angle as to what they would further investigate in the given topic.

– To kickstart the whole course, the marketing director of Jukolux Oy, Mr. Rainer Rönnback, gave a lecture as to what Jukolux is doing and what it is aiming towards, says the professor in charge, Mrs. Leena Pommelin-Andrejeff.
Everybody wins
Every team and every student did a stellar job. Jukolux Oy's Rainer Rönnback says that the results gave support to the ideas and direction that Juklux Oy was already heading for. As a show of gratitude, the company offered a generous buffet for the students during the final meeting.

The students also gained a lot from working with real life situations and they had the chance to utilize their skill set in a real environment.

– All in all, a great co-operation and this gives us a good direction to strive towards in the years to come, says Mrs. Pommelin-Andrejeff.
Original text: Leena Pommelin-Andrejeff
Pictures: Leena Pommelin-Andrejeff